BAE and SSTL To Deliver Processor For Chandrayaan-1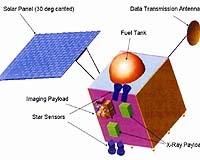 Artist's impression of the Indian Space Research Organization (ISRO) Chandrayaan-1 spacecraft.
by Staff Writers

Farnborough UK (SPX) Jul 21, 2006

BAE Systems and its small-satellite partner, Surrey Satellite Technology (SSTL), are under contract to deliver the OBC695B processor to control a small RF subsystem that will fly as an experiment on the Indian Space Research Organization (ISRO) Chandrayaan-1 spacecraft. The experiment's mission is to map the poles of the Moon. Launch is scheduled for 2007.

The OBC695B is a derivative of the OBC695A that is currently flying on the GIOVE-A navigation satellite, designed and built by SSTL for the European Space Agency. GIOVE-A is the first in a series of Galileo navigation satellites and was launched in December 2005.

The OBC695B will be delivered by SSTL in late 2006 for payload integration in the US prior to installation on the Chandrayaan-1 spacecraft in early 2007.

Under a memorandum of agreement, BAE Systems and SSTL are offering customers - particularly NASA and the Department of Defense - a 'one-stop shop' for a broad range of small-satellite capabilities, affordably and at low risk.
Email This Article
Related Links
BAE Systems
Surrey Satellite Technology
Mars News and Information at MarsDaily.com
Lunar Dreams and more



SMART-1 Views Sulpicius Gallus

Paris, France (SPX) Jul 19, 2006

This mosaic of three images, taken by the Advanced Moon Imaging Experiment on board ESA's SMART-1 spacecraft, shows the area close to the Sulpicius Gallus crater on the Moon. AMIE obtained this sequence on March 18, from a distance of 1,200 kilometers (744 miles) from the surface, with a ground resolution ranging from 110 meters to 114 meters (357 feet to 370 feet) per pixel.